Home

›

GIM Suisse AG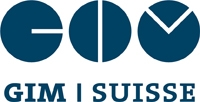 GIM Suisse AG
General-Wille-Strasse 10
CH-8002 Zürich
Dienstleistung
Qualitative Marktforschung
Quantitative Marktforschung
Desk Research
Online-Befragungen
Mobile-Befragungen
CAPI
CATI
Expertengespräche
Gruppendiskussionen
Tiefeninterviews
Panels
Omnibusbefragungen
Software
Sonstiges
Studioleistung
Eigenes Teststudio
Studiovermietung
Testplätze
Gruppendiskussionsräume
Einwegspiegel
Separate Beobachtungsräume
Dolmetscheranlage
Eye Tracking
Videoaufzeichnung
Testküchen
CATI-Studio
Wirkungsbereich
nur Deutschland
Europa
Afrika
Unternehmensbeschreibung
Deeper understanding
As an answer to growing complexity, globalisation and individualisation we offer new methods and perspectives that allow a better and deeper understanding of the consumers, their motives and habits as well as changes in the market.

Not large-sized but still big
At the time, nine permanent employees and several freelancers work with GIM Suisse. This enables us to personally address our clients on one hand, and allows for great flexibility on the other.
Additionally, we have access to the skills and resources of a large, transnational network through our integration into the GIM group. This is unique within Switzerland – especially in the qualitative area – and makes international research know-how on a top level locally available.

Broad portfolio of methods
We provide an extensive range of methods with a focus on qualitative market research. Still, we often apply quantitative tools and refine them continually.


State-of-the-art studio
We offer a first-class studio in Zurich-Enge to conduct focus group discussions and interviews. Large, modern rooms, a viewing mirror and contemporary transmission technology offer an ideal environment for pleasant as well as professional field work.
Keywords
B2B Marktforschung
Co-Creation
Consumer Insights
Insights
Internationale Marktforschung
Marktforschung
Qualitative Marktforschung
Quantitative Marktforschung
Trendforschung
Workshops
Daten und Fakten
Management:
Susan Shaw
Inhaber/Konzern:
GIM Gesellschaft für Innovative Marktforschung, Heidelberg
Gründungsjahr:
2005
Mitarbeiteranzahl:
10-19
Ansprechpartner
Susan Shaw
Managing Director