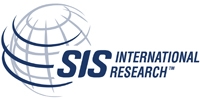 SIS International Research
11 East 22nd Street, 2nd Floor
US-10010 New York, NY
Dienstleistung
Qualitative Marktforschung
Quantitative Marktforschung
Desk Research
Online-Befragungen
Mobile-Befragungen
CAPI
CATI
Expertengespräche
Gruppendiskussionen
Tiefeninterviews
Panels
Omnibusbefragungen
Software
Sonstiges
Studioleistung
Eigenes Teststudio
Studiovermietung
Testplätze
Gruppendiskussionsräume
Einwegspiegel
Separate Beobachtungsräume
Dolmetscheranlage
Eye Tracking
Videoaufzeichnung
Testküchen
CATI-Studio
Wirkungsbereich
nur Deutschland
Europa
Afrika
Unternehmensbeschreibung
SIS International is a leading full-service market research and market intelligence firm providing qualitative fieldwork and quantitative data collection. Our key offices are located in New York, London, Frankfurt, Shanghai, Manila and Seoul. Our market coverage spans the US, EU, Canada, Mexico, Brazil, China, Southeast Asia, Africa and many emerging markets.

We conduct custom research across a variety of sectors including Consumer, B2B/Industrial, Healthcare and Automotive.

Our services include: fieldwork, data collection, multicountry studies, segmentation, car clinics, customer satisfaction and loyalty research, branding insights, usability testing, product & packaging insights, Key Opinion Leader research, and B2B interviewing. Other strategic specialties include competitive analysis, market entry/sizing, desk research and strategic positioning analysis...
Keywords
China & Asia market research
Latin America market research
Marktforschung in China & Asien
Marktforschung in Lateinamerika
Marktforschung in UK und EMEA
NYC focus group facility
NYC Fokusgruppenräume
UK and EMEA market research
Daten und Fakten
Management:
Ruth Stanat
Gründungsjahr:
1984